Break Diving's Coding Community Makes Coding More Fun!
Don't code alone! Learning to code with others at Break Diving will make your coding adventures at App Academy a lot more fun and effective. With the comaraderie you enjoy at Break Diving, you are less likely to quit, and will progress even faster.
Here's a fact: the # 1 reason that people quit learning to code is because they run into difficulties with a problem, start to feel stupid, have no one to turn to, and then give up. Don't let that happen!
In the Break Diving H.A.C.K.ers community (Highly Ambitious Coding Club), you will find others from around the world who have already done what you want to do! In our chat rooms and on our message boards, we are all ready to help ensure you finish your App Academy Full Stack curriculum with flying colors! Once you're done with the program, you'll be a competent full-stack developer AND have built up hundreds of coding friendships at Break Diving. Sounds great, right?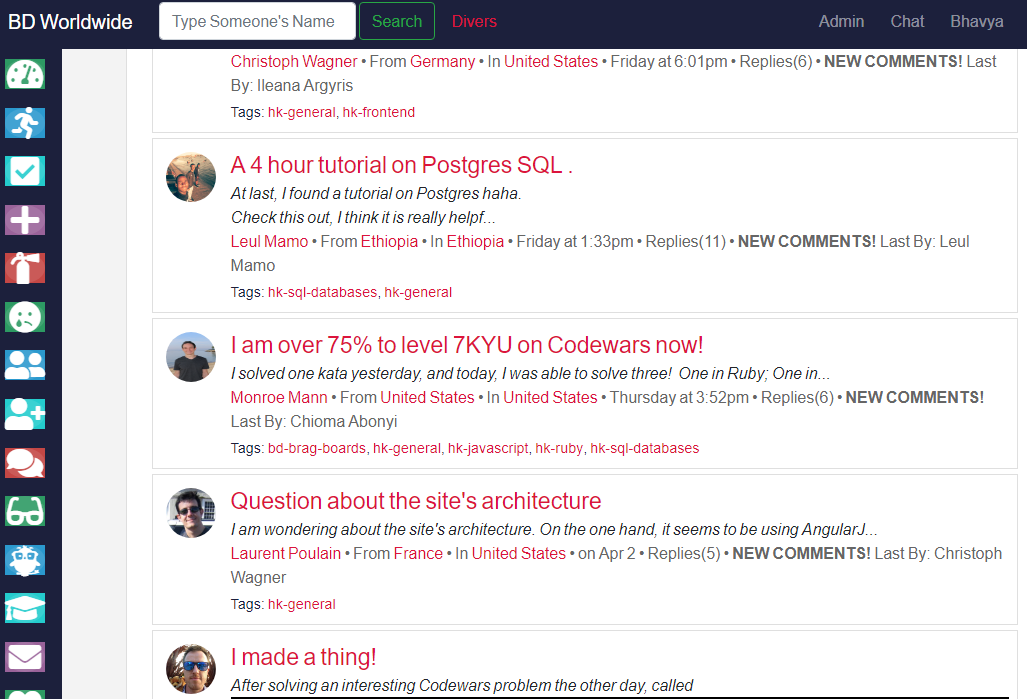 Worldwide Coding Success Community
Break Diving members help one another solve problems and find success.
Gain the Support and Encouragement You Need
You are significantly more likely to finish your AppAcademy curriculum by regular participation in our community. Gain support, find answers, & work with others when stuck.
More Than Just Coding
At Break Diving, helping you fulfill your dreams is our mission. You can also practice foreign languages, share your favorite photos, share and laugh at funny jokes, and even learn how to develop a career in showbiz.